What the heck is this? It's BACK, that's what!
Click the picture to find out more!

The latest and the greatest... and all the rest...

You know this stuff by now... or should...

Everything you didn't know you needed to know...

The round plastic things with the holes...

Now over 52,000 intelligent, good-looking readers!

Ah, memories...

If you ever wondered what the words to "Cockroach Stomp" are...

Moragh Carter's site! (Or, now you can line-dance and be respectable!)

The other round things with the holes, in greater detail...

Here's what we have, folks!

Now in its 4th glorious version.

Pretty much explains itself, really...

You gotta have friends. Here's ours...

One push and you're talking to our heroes! Really!
(Well, okay, it's email, but you get the point...)
Thanks to technology, you should be listening to
"DREAM A LITTLE DREAM OF ME"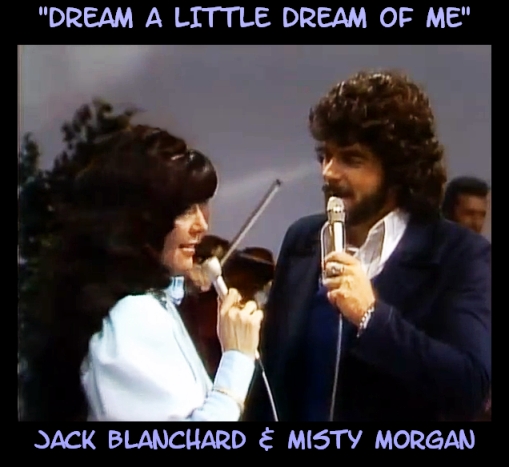 Our new release on
SLC #6
Enjoy.

DREAM A LITTLE DREAM OF ME
(As recorded by Jack Blanchard & Misty Morgan)


Stars shining bright above you
Night breezes seem to whisper "I love you"
Birds singing in the sycamore tree
Dream a little dream of me

Say nighty-night and kiss me
Just hold me tight and tell me you'll miss me
While I'm alone and blue as can be
Dream a little dream of me

Stars fading, but I'll linger on dear
Still craving your kiss
I'm longing to linger till dawn, dear
Just saying this

Sweet dreams till sunbeams find you
Sweet dreams that leave your worries behind you
But in your dreams, whatever they be,
Dream a little dream of me

Words and music by Schwandt/Andre/Kahn.
Copyright © Essex Music/Words & Music/Don Swan Pub./
Keyes Gilbert Music (ASCAP). All rights reserved.