What the heck is this? It's BACK, that's what!
Click the picture to find out more!

The latest and the greatest... and all the rest...

You know this stuff by now... or should...

Everything you didn't know you needed to know...

The round plastic things with the holes...

Now over 52,000 intelligent, good-looking readers!

Ah, memories...

If you ever wondered what the words to "Cockroach Stomp" are...

The other round things with the holes, in greater detail...

Here's what we have, folks!

Now in its 4th glorious version.

Pretty much explains itself, really...

You gotta have friends. Here's ours...

One push and you're talking to our heroes! Really!
(Well, okay, it's email, but you get the point...)
Thanks to technology, you should be listening to
"SECOND TUESDAY IN DECEMBER"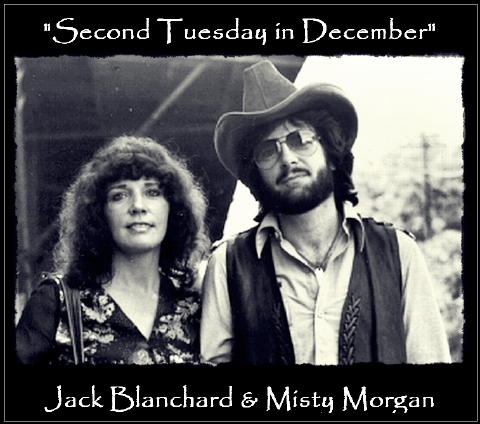 Our new release on
WHPSLP #22.
Enjoy.

SECOND TUESDAY IN DECEMBER
(As recorded by Jack Blanchard & Misty Morgan)


SECOND TUESDAY IN DECEMBER,
icy rain is falling down...
I took the bus out to the city line,
and then I watched it turn around.
Now as I walk down past the junkyard,
by the closed-up drive-in show,
I realize that really leaving
is the only way I'll ever go.

(Misty sings)
It was the seventh of September,
nineteen hundred sixty nine...
95 degrees and rising,
we crossed the Pennsylvania line.
We paid a judge our last ten dollars
to bless us with his legal seal.
I guess that putting love on paper
doesn't always make it real

(Together)
Second Tuesday in December,
icy rain is coming down.
All the snow that's left from Monday
lies gray and frozen on the ground
It's hard to understand this feeling
that a part of me is gone
Second Tuesday in December...
Looks like winter's coming on.

Words and music by Jack Blanchard.
Copyright © Jack Blanchard Songs (BMI) All rights reserved.
Reprinted by kind permission of the author.